In the Southern Tier region of upstate New York, which I consider Chemung, Schuyler and Steuben counties, local real estate attorneys are in agreement that early entry isn't a good idea.
What is Early Entry?
Early entry is when the home buyer is allowed to move into the house he or she is buying before the actual closing. Typically the home buyer is in the mortgage process, close to closing, but due to unforeseen circumstances, needs to move in early.
Twice now, I've had situations where I'm representing a home buyer as a buyer's agent, and it was necessary for them to get early entry into the home they were buying, before the actual closing.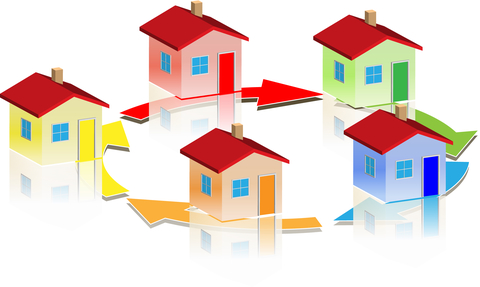 Early Entry Case #1: Homelessness and a Vacant Property
In the first case, the house was vacant as the elderly seller had moved away for the winter, in anticipation of the home sale. My buyer needed to move in before the closing as she literally became homeless, for reasons I can't disclose due to client confidentiality. In this case, the attorneys for the buyer and seller agreed to allow this client early entry into the vacant house, because of the circumstances. And guess what — a situation came up where the well went dry (or so it seemed — it actually turned out to be the pump died and needed to be replaced), and then the hassle was: who pays for it? The owner? Or the future owner?
In this case, they agreed to split the expense 50/50, and I remember the attorney for the buyer saying: "This is why we don't like early entry."
Early Entry Case #2: A Daisy-Chain of Deals Contingent on the Sale of One for the Purchase of the Next
In a second case of early entry, my buyer was selling her home on the west coast, to buy a house in Elmira, New York. Her offer in Elmira was contingent upon her selling her home out west. In time, that deal went through and the first domino tipped into the second.
My client's offer was accepted by the Elmira home-seller — who was buying another home across town — contingent upon her selling HER Elmira home. And THAT home was being sold contingent on that seller buying ANOTHER home, and… you get the picture? Can you imagine the stress each of these buyers and sellers are experiencing? Moving is considered a major stressor in a person's life, and this was a whole package of stress, with each purchase involving a sale. In other words, each client was facing two closings, that had to work in sequence.
A domino effect! This deal had to work for that deal to work, and that deal had to work for the next deal to work, and so on. Tricky.
So, my buyer sold her home out west, packed a U-Haul with all her possessions, including four cute little dachshunds, and arrived in town just as she received a Clear to Close mortgage statement from her lender.

Follow me here. So my buyer arrived, ready to move in, but the house she was buying was still occupied by the current owner. That owner couldn't buy her next home until there was a closing and money transfer for that mortgage for the next purchase. So, at the time of this writing, we are waiting for permission to get an early entry for the Elmira home SELLER so my buyer can move in ASAP. But there's a good chance she's going to have to live in a hotel with her dogs and the U-Haul still packed, as we wait for the closing.
As her agent, I've done everything possible to make this a smooth transition, but I, and the agents for the other buyers and sellers, are ham-strung by the mortgage and legal process that has to take place. My hands are tied! The best I can do is be a champion for the pain and stress my buyer is experiencing, but I know the pain is being daisy-chained down the line to the next buyer/seller, and so it goes….
Early Entry: Attorneys Don't Like Them, But Sometimes It's Necessary
However, in certain human situations, it becomes vital that early entry be granted. Homelessness is one of those vital circumstances. If a home purchase is a cash deal, this becomes a non-issue. But when mortgages are involved, timing becomes critical. A good real estate agent, a good attorney and a local lender can all work together to make the pain of a move as painless as possible, but when you throw a national mortgage lender in the mix, it causes problems.